Videos – Michael Sprung's Market Outlook & Top Stock Picks
Michael Sprung is a regular contributor and guest on Bloomberg Business News Network. Below are some recent videos from BNN's Market Call, featuring Michael's commentary on recent market activity: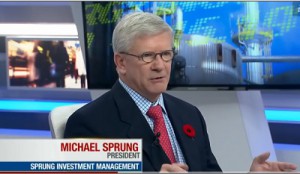 Michael Sprung appears on BNN Bloomberg's Market Call. You can view a selection of past appearances here:
Value investing shifts our portfolio management focus away from speculative profits, market trends and the frequently changing opinions of experts, focusing instead on company and market "fundamentals."

Value investing is an investment approach developed by Ben Graham at Columbia Business School in the 1920?s. It was subsequently refined by Graham and his partner David Dodd through various editions of their famous book Security Analysis. Well known proponents of value investing include Berkshire Hathaway chairman Warren Buffett.

With over three decades of experience, we have found that our three-part value investing strategy is the best way to reduce risk and volatility and earn consistent returns over time. Our diligent, patient and opportunistic approach has served our clients well, through good and bad markets:

Appraise the intrinsic value of each company over a business cycle;
Seek long-term growth of capital by investing in companies that we perceive to be mispriced;
Utilize a margin of safety to promote return of capital…not just return on capital.