Energy company TransCanada Corporation (TSE:TRP, Mkt cap 40.75B, P/E 23.91, Div/yield 0.52/3.62, EPS 2.40, Shares 708.66M) revealed last week that it recorded a $458 million profit in the fourth quarter of 2014, representing an increase of 9% compared to the previous year, the Financial Post reports. The company also noted that its quarterly dividend increased to 52 cents (an 8% rise) per share.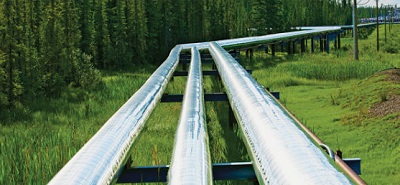 The company, based in Calgary, said that net income per share increased to 65 cents, compared to 59 cents the year before.
TransCanada is waiting for a decision to be made in the United States in relation to its Keystone XL project, which consists of a pipeline that will carry oil-sands crude from Alberta to refineries in Texas. The company began oil shipments in the southern leg of this project last year, transporting oil from Oklahoma to Texas along the Gulf Coast line. This forms part of the company's plan to double its dividend growth rate through 2017. The total cost of the Keystone XL project will be around $8 billion, including the $2.4 billion that was invested as of the end of 2014.
The approval for this project lies with the US State Department, with President Barack Obama saying that Keystone XL will not be approved if it would lead to a large increase in carbon dioxide emissions.
Along with the Keystone XL project, TransCanada is also looking to build North America's biggest oil pipeline, called the Energy East project. This pipeline will carry 1.1 million barrels of oil from Alberta to Canada's Atlantic coast every day.
TransCanada owns around 57,000 kilometers of pipeline as well as having either whole or part-ownership of 21 power plants.
What is Successful Investing? Learn more here>>
Download Our Free Special Report – How to Hunt For Value Stocks. Michael Sprung will share with you 5 stocks set for long-term gains
here>>
We believe that investment management is about managing risk, not chasing speculative returns.
Like to learn more? Please contact us here>>
The opinions expressed here are ours alone. They are provided for information purposes only and are not tailored to the needs of any particular individual or company, are not an endorsement, recommendation, or sponsorship of any entity or security, and do not constitute investment advice. We strongly recommend that you seek advice from a qualified investment advisor before making any investment decision.