TD Bank will raise its quarterly dividend to 51 cents per share from 47 cents, a 9% hike.

TD Bank, formally known as Toronto-Dominion Bank (TSE:TD, Mkt cap 101.33B, P/E 13.25, Div/yield 0.51/3.72, EPS 4.14, Shares 1.85B) said it will prioritise organic growth ahead of acquisitions in 2015, after announcing moderate year-on-year profit growth last week.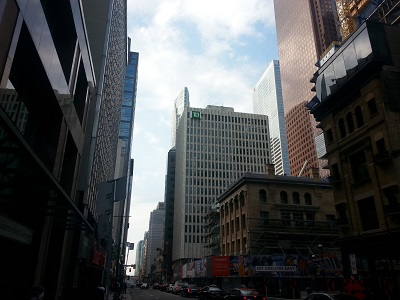 As the Financial Post reports, Canada's second-largest lender said that its net income rose to $2.06 billion, or $1.09 per share, in the first quarter ended Jan. 31, from $2.04 billion, or $1.07 per share, a year earlier.
Excluding one-time items, TD Bank earned $1.12 per share, which falls in line with the analyst average estimate, according to Thomson Reuters I/B/E/S.
Prior to the results, investors had feared that the sharp price drop in oil prices would have a damaging effect on the profits of Canadian banks, but Colleen Johnston, TD Bank's chief financial officer, says it has so far proved itself immune to the drop.
"We're really not seeing any direct effects to this point, but keeping a very close eye on this because needless to say, low oil prices are a negative for Canada overall," she told Reuters.
As a result, the lender has been able to raise its quarterly dividend to 51 cents per share from 47 cents, which represents a 9% hike.
Net income from the firm's Canadian retail business climbed 20% to $1.45 billion, while that from its U.S. retail arm shot up 27% to $625 million.
Wholesale banking, however, did not fare quite as well, falling 16.5% to $192 million in the first quarter ended Jan. 31, which has been attributed to lower fee-based revenue on reduced volumes.
TD Bank, therefore, will take a fairly considered approach to growth in 2015, Johnston explained. She said: "We don't feel that we're strategically disadvantaged in any of our businesses where we have to go and acquire something. If something came along that was really attractive financially and strategically we would consider it."
What is Successful Investing? Learn more here>>
Download Our Free Special Report – How to Hunt For Value Stocks. Michael Sprung will share with you 5 stocks set for long-term gains
here>>
We believe that clients gain from our focus on the long-term fundamentals and not chasing short-term trends.
Like to learn more? Please contact us here>>
The opinions expressed here are ours alone. They are provided for information purposes only and are not tailored to the needs of any particular individual or company, are not an endorsement, recommendation, or sponsorship of any entity or security, and do not constitute investment advice. We strongly recommend that you seek advice from a qualified investment advisor before making any investment decision.