Bell Canada Enterprises tops estimates on new wireless customers, ups dividend by 5.3% to $2.60
Bell Canada Enterprises BCE Inc. (TSE:BCE, Mkt cap 45.83B, P/E 18.64, Div/yield 0.62/4.46, EPS 2.97, Shares 840.33M) appears to be taking market share from its cable-TV competitors, posting a near 10% increase in fourth-quarter profit last week, the Financial Post reports.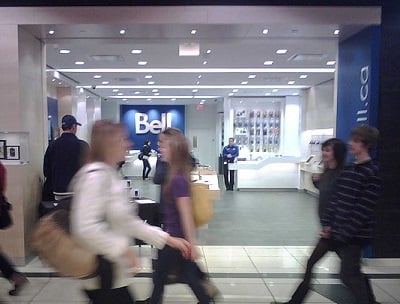 Canada's largest telecommunications company showed strong wireline subscriber and revenue gains, which analysts say shows that the firm is becoming a bigger player in the cable-TV market.
Bell Canada, which also hiked its annual dividend by 5% to $2.60, added 177,698 net new customers in the fourth quarter – 42,190 of which were television subscribers.
The Montreal-based company, which operates under the Bell brand, also posted healthy gains in wireless results, and its Internet-TV service enjoyed a significant and somewhat surprising increase in uptake.
Wireline revenue climbed 1% to $2.63 billion, the first year-over-year growth since the third quarter of 2010, Canaccord Genuity analyst Dvai Ghose pointed out.
In wireless, Bell Canada acquired 118,120 postpaid customers, while losing 34,622 prepaid customers, which the telco's chief financial officer Siim Vanaselja says shows that it is moving in the right direction.
"Our financial targets for this year reflect our expectation for continued strong wireless segment profitability, positive growth in wireline segment performance, as well as healthy earnings and free cash flow growth from operations," he said.
Fourth quarter net income rose to $542 million from $495 million in the year-earlier period. On a per-share basis, net earnings were flat at 64 Canadian cents.
In the next 12 months, Bell Canada forecasts revenue growth of around 1% to 3% and adjusted earnings per share of $3.28 to $3.38, which represents a rise from $3.18 in 2014.
What is Successful Investing? Learn more here>>
Download Our Free Special Report – How to Hunt For Value Stocks. Michael Sprung will share with you 5 stocks set for long-term gains
here>>
We believe that investors benefit from an independent investment manager who acts in their best interest.
Like to learn more? Please contact us here>>
The opinions expressed here are ours alone. They are provided for information purposes only and are not tailored to the needs of any particular individual or company, are not an endorsement, recommendation, or sponsorship of any entity or security, and do not constitute investment advice. We strongly recommend that you seek advice from a qualified investment advisor before making any investment decision.