Top Pick Sales:
Agrium Inc. (TSE:AGU, Mkt cap 20.54B, P/E 19.86, Div/yield 0.97/2.71, EPS 7.25, Shares 143.73M) We scaled back in a few accounts where weight had become larger than desired due to recent price appreciation. Still owned in many accounts.Sold at $143.12 on February 24, 2014.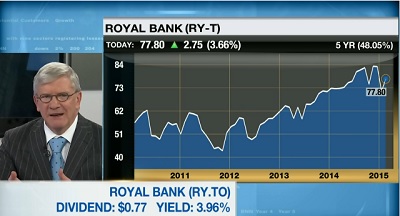 Top Picks:
Royal Bank of Canada (TSE:RY, Mkt cap 112.31B, P/E 12.97, Div/yield 0.75/3.85, EPS 6.01, Shares 1.44B) Owned by clients, Last Purchase September 10, 2014: $81.15
The Royal Bank is Canada's largest financial institution with extensive domestic and wealth operations as well as global capital markets, custody and brokerage networks. The positive results in the most recent quarter are illustrative of the strength of a well diversified and managed company. Longer term, we expect Royal Bank to prosper and provide further dividend enhancements.
HudBay Minerals Inc. (TSE:HBM, Mkt cap 2.49B, P/E – , Div/yield 0.01/0.19, EPS -0.25, Shares 233.62M) Owned by clients, Last Purchase September 10, 2014: $10.96
HudBay Minerals is one of Canada's leading producers of zinc, copper and precious metals with operations in Canada, Peru and the US. Constancia, a major copper-molybdenum-silver mine in Peru, will be ramping up production over 2015. With other project coming onstream over the next few years, we anticipate that valuation levels will increase.
Aecon Group Inc (TSE:ARE, Mkt cap 665.52M, P/E 21.44, Div/yield 0.09/3.05, EPS 0.55, Shares 56.45M) Owned by clients, Last Purchase December 1, 2014, $11.57
Aecon Group is one of Canada's largest construction companies. A large portion of Aecon's business is related to the energy sector and the company's stock price has been under pressure as a result. Over the last number of years, management has taken steps to strengthen the financial position of the company. At current prices, the stock presents good value to investors for longer term appreciation.
Outlook:

Geopolitical concerns (Ukraine/Russia, ISIS in the Middle East, etc.) are still prevalent but investors' concerns are becoming more focused on the fallout of weak oil prices, low inflation (possibly deflation), and, weak demand for goods and services. The US dollar continues to dominate currency markets reflecting the relatively strong fundamentals of the US economy while the European and Japanese economies are weak and the growth in China has been less than expected. While low oil prices may ultimately benefit oil importing countries, oil exporters are feeling the pinch and Canada is no exception. As the impact of the weakening energy sector reverberates throughout the Canadian economy, the stock market in Canada will continue to exhibit higher volatility for the next number of months. During this period, investors would be well advised to to position their portfolios in companies with strong financial positions that will weather the storm and ultimately benefit from the opportunities presented by weaker companies' distress.
You can view this and previous Market Call interviews here>>
What is Successful Investing? Learn more here>>
Download Our Free Special Report – How to Hunt For Value Stocks. Michael Sprung will share with you 5 stocks set for long-term gains
here>>
We believe that investment management is about managing risk, not chasing speculative returns.
Like to learn more? Please contact us here>>
The opinions expressed here are ours alone. They are provided for information purposes only and are not tailored to the needs of any particular individual or company, are not an endorsement, recommendation, or sponsorship of any entity or security, and do not constitute investment advice. We strongly recommend that you seek advice from a qualified investment advisor before making any investment decision.