Inter Pipeline Ltd (TSE:IPL, Mkt cap 10.95B, P/E 31.61, Div/yield 0.12/4.38, EPS 1.06, Shares 326.21M)

Impressive volume levels, particularly in the last three months of year, have enabled oil transporter Inter Pipeline Ltd. to report increased revenue of $1.56 billion in 2014, compared to $1.36 billion in 2013.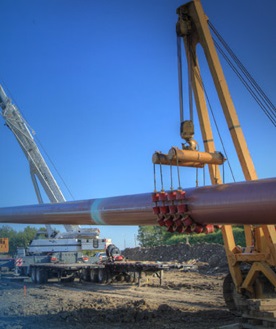 As the Calgary Herald reports, the company has invested heavily in its three oilsands pipeline systems in the last two years, resulting in volume of more than one million barrels per day (bpd) as 2014 drew to a close.
For the year as a whole, volumes averaged 912,900 bpd on its Cold Lake, Corridor and Polaris pipeline systems, which represents a gain of 10% over 2013.
"We transported over 1.1 million barrels per day on our oilsands and conventional gathering systems (in 2014), establishing a new record for the fifth consecutive year," Christian Bayle, the firm's president and chief executive, told the newspaper.
Inter showed equally notable gains on its three conventional oil-gathering systems, which transported 205,200 bpd in 2014, a 10% climb on 2013 figures.
As well as reporting higher revenues, the firm noted an improvement in funds from operations, which rose to $564 million from $472 million.
Net income came out of the year in good shape, too, standing at $350 million. This is a significant turnaround from the $47 million loss reported in 2013.
Growth appears to be pretty consistent across the board, with Inter highlighting that all three oilsands pipelines enjoyed a prosperous 2014, including a 300% increase in northbound diluent volumes on the Polaris pipeline system.
What is Successful Investing? Learn more here>>
Download Our Free Special Report – How to Hunt For Value Stocks. Michael Sprung will share with you 5 stocks set for long-term gains
here>>
We believe that investment management is about managing risk, not chasing speculative returns.
Like to learn more? Please contact us here>>
The opinions expressed here are ours alone. They are provided for information purposes only and are not tailored to the needs of any particular individual or company, are not an endorsement, recommendation, or sponsorship of any entity or security, and do not constitute investment advice. We strongly recommend that you seek advice from a qualified investment advisor before making any investment decision.