With the Argentine government clamping down on foreign mining companies, Goldcorp Inc. (TSE:G, Mkt cap 22.79B, P/E – , Div/yield 0.06/2.57, EPS -1.15, Shares 813.53M) has announced it expects to record a significant write-down of up to US$2.7 billion on its new Cerro Negro mine in the country.
As the Financial Post reports, the Argentine government has employed a number of tactics in order to bat down the profits of outside mining firms, including implementing exchange rate controls that limit companies' ability to convert Argentine pesos into U.S. dollars.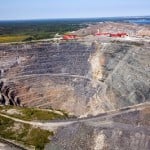 Goldcorp said it did not envisage running into these sorts of problems when it paid $3.6 billion to acquire the Cerro Negro project back in 2010. Chief executive Chuck Jeannes says that although he expects the hurdles to fall away over time, the short-term cost of the impairment will come in at somewhere between US$2.3 billion and US$2.7 billion.
The exact reduction in the book value of the company's Cerro Negro asset will be reported in its fourth quarter earnings, but Jeannes suggests its unfortunate timing in Argentina will not have too much of a bearing on the firm's overall outlook.
"We enter 2015 with an outstanding portfolio anchored by young, low-cost mines that are positioned to contribute free cash flow this year and beyond," he said in a statement.
The Cerro Negro project encountered problems from the start, with constructions costs running well over budget. However, with the mine finally reaching commercial production at the start of January, it will produce up to 475,000 ounces this year and is expected to be a major cash flow generator for Goldcorp.
Goldcorp also announced plans to acquire Probe Mines Ltd (CVE:PRB) for 0.1755 of a G share, equivalent to C$5.00 per share or for a total cost of ~C$526M (a 49% premium to PRB's January 16 closing price). Probe Mines shareholders will also receive one-third of a New Probe share which will contain the Black Creek Deposit, Tamarack-McFauld's Lake property, Victory Property, C$15M in cash and C$4M receivable related to the previous sale of a royalty on the Goldex mine. The transaction is expected to close in March. Goldcorp already holds 9.3% of Probe Mines.
Goldcorp 's Porcupine mine is located 160km away. Ore could be transported to Goldcorp 's mill facility, which would reduce capital costs and permitting requirements and also deliver higher grade ore.
What is Successful Investing? Learn more here>>
Download Our Free Special Report – How to Hunt For Value Stocks. Michael Sprung will share with you 5 stocks set for long-term gains
here>>
We believe successful investors must challenge the market consensus by maintaining an independent point of view.
Like to learn more? Please contact us here>>
The opinions expressed here are ours alone. They are provided for information purposes only and are not tailored to the needs of any particular individual or company, are not an endorsement, recommendation, or sponsorship of any entity or security, and do not constitute investment advice. We strongly recommend that you seek advice from a qualified investment advisor before making any investment decision.