The wildfires that swept through Fort McMurray in May 2016 forced oil sands producers to cut production and temporarily shut down facilities, and cost insurers billions of dollars.
The Insurance Bureau of Canada (IBC) revealed on Friday that the wildfires, the country's biggest natural disaster in 2016, resulted in approximately $3.7bn in insured damage — more than twice the amount of the previous costliest natural disaster on record.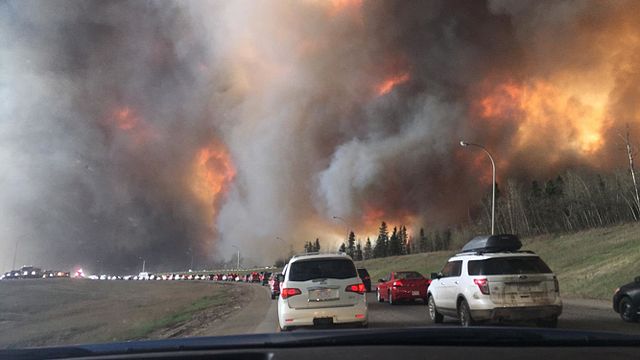 Flooding which devastated parts of Nova Scotia and Newfoundland over Thanksgiving weekend was also among the severe weather events that had a huge impact on Canadians in 2016, IBC said.
According to the Catastrophe Indices and Quantification (CatIQ), total insured damage for 2016 topped $4.9bn, beating the previous annual record of $3.2bn set in 2013.
With severe weather and natural disasters occurring more frequently, IBC has urged lawmakers to address the growing problem of climate change.
"Severe weather due to climate change is already costing Canadians billions of dollars annually," commented Don Forgeron, IBC president and CEO. "The record damage reported in 2016 is part of an upward trend that shows no signs of stopping. That is why Canada's property and casualty insurance industry is calling on governments across the country to come together and implement expansive climate policies that will better prepare Canadians and their communities for when disasters strike."
Forgeron added that the industry would continue to press for a National Flood Program to make communities safer and more resilient.
"Canada lags behind every other G7 nation when it comes to flooding and we must do more to be prepared," he said.
What is Successful Investing? Learn more here>>

Download Our Free Special Report – How to Hunt For Value Stocks. Michael Sprung will share with you 5 stocks set for long-term gains
here>>
We believe that investment management is about managing risk, not chasing speculative returns. Like to learn more? Please contact us here>> The opinions expressed here are ours alone. They are provided for information purposes only and are not tailored to the needs of any particular individual or company, are not an endorsement, recommendation, or sponsorship of any entity or security, and do not constitute investment advice. We strongly recommend that you seek advice from a qualified investment advisor before making any investment decision.