Cascades, Inc. to sell its Norampac division to Graphic Packaging

Green packaging and tissue paper manufacturer Cascades, Inc. (TSE:CAS, Mkt cap 624.62M, P/E – , Div/yield 0.04/2.41, EPS -0.64, Shares 94.07M, Beta 1.06) has reached an agreement with U.S.-based Graphic Packaging Holding Company for the sale of its North American boxboard manufacturing and converting assets.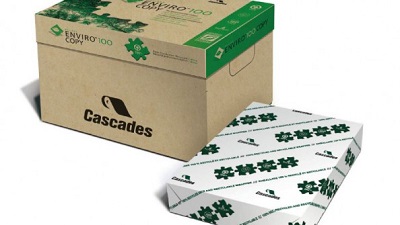 Northumberland News reports that Graphic Packaging will pay Cascades $44.9 million for five facilities, including a plant in Cobourg, Ontario.
Alongside the Cobourg location, the transaction includes the sale of two mills in Quebec, a plant in Mississauga and a plant in Winnipeg, Manitoba.
Cascades says the shedding of its Norampac division is a strategic decision, as it tries to figure out which direction to go in.
Cascades' vice-president of communications and public affairs Hugo D'Amours told Northumberland News that he expects the transfer of the facilities, which employ approximately 670 workers, to occur sometime in the first quarter of 2015.
"I think it's well positioned and obviously I can't speak on behalf of Graphic Packaging, but I certainly believe that if they are investing that amount of money to acquire those units, it's probably because they have plans for them," he explained.
Norampac president and CEO Marc-André Dépin thanked the employees for their services, suggesting that their input has allowed the firm to move forward.
"The investments made in past years in these boxboard manufacturing and converting units have led to an opportunity to create synergies with a player such as Graphic Packaging," he said. "By exiting this sector of activity in North America, Cascades and Norampac are turning a page in their history."
What is Successful Investing? Learn more here>>
Download Our Free Special Report – How to Hunt For Value Stocks. Michael Sprung will share with you 5 stocks set for long-term gains.
We believe clients are more concerned about losing money than making speculative gains. Like to learn more? Please contact us here>>
The opinions expressed here are ours alone. They are provided for information purposes only and are not tailored to the needs of any particular individual or company, are not an endorsement, recommendation, or sponsorship of any entity or security, and do not constitute investment advice. We strongly recommend that you seek advice from a qualified investment advisor before making any investment decision.