Market Call Outlook
Investors' concerns have been evident as the volatility of the global markets has increased over the recent past. Those concerns have been exacerbated by intense coverage by the media of the many global calamities that are ongoing. New shocks to the market have appeared as investors' attention is shifted between the ongoing debt problems in the European Union, mass emigration from unstable regimes in the Middle East across the Mediterranean, the sudden decline in the Chinese market with implications of a slowing domestic economy, ongoing fears of Russian hegemony in the Ukraine, territorial conflicts in the South China Sea, etc. Nearer to home, the Canadian economy continues to adjust to the impact of fallen commodity prices, particularly energy, and the subsequent ripple effects throughout the economy. Investors have also been captivated by trepidation and uncertainty as to the effect that a raise in interest rates may have on the currently more robust US economy, when and if such a rate hike occurs.
Given that until recently, the markets have exhibited little sign a correction since the financial crisis of 2008, we believe that the current volatility is a natural outcome of wavering economic conditions in conjunction with the unsettling geopolitical issues. Arguably, valuations had become a little rich and we are now going through an adjustment that is a natural phenominom of market cycles. These adjustments are rarely smooth or quick.
It is during these periods that investors should be seeking opportunities in companies that ultimately benefit from the calamity caused by current conditions and in fact prosper from their ability to take advantage of their weakened competitors.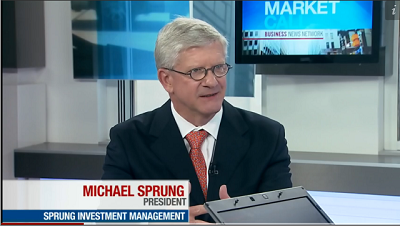 Market Call Top Picks
Bank of Nova Scotia
The Bank of Nova Scotia (TSE:BNS, Mkt cap 71.13B, P/E 11.07, Div/yield 0.70/4.75, EPS 5.32, Shares1.21B) is the most international of the Canadian banks with branches in the Caribbean, Central and South America. The Canadian banks have been impacted by the recent volatility in the markets. BNS is now selling at levels that long term investors should find attractive as the premium valuation has fallen. The dividend yield is now 4.7%.
Canadian Natural Resources
Canadian Natural Resources Limited (TSE:CNQ, Mkt cap 31.26B, P/E 19.85, Div/yield 0.23/3.22, EPS 1.44, Shares 1.09B) is one of Canada's leading senior producers of oil and gas. In the current environment, investors should be positioning their exposure in the energy sector to the stronger, better managed firms that have the wherewithal to survive through the downturn and take advantage as weaker companies are forced to dispose of assets or sell at bargain prices. CNQ has an enviable balance sheet and extremely well regarded management. The recent falloff of the stock price presents a good place to establish an initial position in this company.
HudBay Minerals Inc.
HudBay Minerals Inc.(TSE:HBM, Mkt cap 1.49B, P/E 52.67, Div/yield 0.01/0.32, EPS 0.12, Shares 235.23M) is one of Canada's leading producers of zinc, copper and precious metals with operations in Canada, Peru and the US. Constancia, a major copper-molybdenum-silver mine in Peru, will be is currently ramping up production. HudBay has a number of projects coming on stream over the next few years, we anticipate that valuation levels will increase.
What is Successful Investing? Learn more here>>
Download Our Free Special Report – How to Hunt For Value Stocks. Michael Sprung will share with you 5 stocks set for long-term gains
here>>
We believe that clients gain from our focus on the long-term fundamentals and not chasing short-term trends. Like to learn more? Please contact us here>>
The opinions expressed here are ours alone. They are provided for information purposes only and are not tailored to the needs of any particular individual or company, are not an endorsement, recommendation, or sponsorship of any entity or security, and do not constitute investment advice. We strongly recommend that you seek advice from a qualified investment advisor before making any investment decision.